De Beers, the one-time world diamond monopoly, is bowing to market forces.
The Anglo American Plc unit, still producing about 30 percent of supply, is said to have lowered prices almost 10 percent last month, and is plowing tens of millions of dollars into an advertising push to spur jewelry sales. That's after two reductions in its annual output target, by a total of as much as 15 percent, failed to halt an accelerating slump in prices of the uncut gems.
"The time is right for us to try and help boost confidence in the industry," Bruce Cleaver, De Beers' head of strategy, said from London on Sept. 2.
Rough diamond prices have tumbled about 14 percent this year and are heading for their fifth straight quarterly loss, the longest streak in at least a decade, figures from U.K.-based WWW International Diamond Consultants show.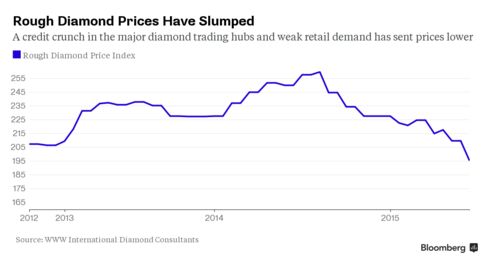 De Beers cut prices on a sale of about $250 million of the stones by as much as 9 percent last week, according to three people familiar with the matter. Its advertising campaign to promote diamond jewelry focuses on the U.S. and Chinese consumers who make up more than half the world market.
"It's a dramatic set of steps," Anish Aggarwal, a partner at Antwerp-based industry consultants Gemdax, said from Antwerp last week. "It's a recognition that these two markets are the ones they really need to keep an eye on."
In July, De Beers lowered its full-year production goal to 29 million to 31 million carats from an earlier target of 30 million to 32 million carats. At the start of the year, it was planning to mine as much as 34 million carats.
"We don't go around worrying about market share," De Beers' Cleaver said.
That's a change from when the company shipped 90 percent of the world's diamonds about a decade ago, tightly controlling supply through its system of sales to hand-picked customers, or sightholders, allowed to polish gems and sell them to jewelers or simply offer the rough stones on for a quick profit.
While the system still operates, De Beers has squeezed sightholders' margins since Chief Executive Officer Philippe Mellier took the helm in 2011, holding prices at levels that left margins below the 2.5 percent buyers need to break even. It also favors buyers cutting the gems themselves instead of selling on the rough stones to profit from their privileged position as sightholders.
De Beers has since given ground, lowering prices, following reports of threats made by Indian customers in July to halt rough diamond imports.
"What we're seeing now is a symptom," Aggarwal said. "They've tried to hold the line as long as possible and the result is more dramatic actions now."