Go ahead, call it a comeback: gold just erased its 2015 losses.
The metal jumped to the highest in more than three months on Thursday as evidence that economies are slackening from China to Europe damped expectations the Federal Reserve will soon raise interest rates. Signs of stagnating U.S. inflation and retail sales added to the case to keep rates low, which revives the appeal of gold as a store of value.
Bullion for immediate delivery traded at $1,179.60 an ounce at 11:56 a.m. in Singapore, according to Bloomberg generic pricing. The metal rose to $1,191.67 on Thursday, the highest level since June 22, to just overturn losses since the end of 2014. This week, it is 2 percent higher.
"The view is definitely shifting toward a later liftoff, and that sentiment is generally supportive of gold prices," Vyanne Lai, an economist at National Australia Bank Ltd. in Melbourne, said by phone.
More to Go
Gold bulls are returning after ignoring the metal for much of the year. Holdings in exchange-traded products backed by bullion are headed for the fourth gain in five weeks, and options are signaling that traders expect the rally has more to go. Analysts surveyed by Bloomberg are still split on whether the metal will cap 2015 with a gain, after prices tumbled 29 percent in the previous two years amid resilient U.S. growth and a stronger dollar. Odds for a liftoff this year are at 30 percent, fed funds futures data show.
"The gold trade right now is really about the Fed," said Bob Haberkorn, a senior strategist at RJO Futures in Chicago. "With the numbers deteriorating as they are, it's getting less likely there will be a Fed rate increase this year. The fundamentals, along with the technicals, are all pointing to a bullish close for gold at the end of the year."
Dudley's Comments
There's still plenty of room for debate which way the Fed will go. Fed Bank of New York President William C. Dudley said Thursday the central bank should still raise rates this year so long as the economy stayed on track, echoing Chair Janet Yellen who said last month she expected a rate rise would be warranted in 2015.
Gold fell for five quarters through Sept. 30, the longest streak since 1997, as the U.S. recovery gained momentum and the job market improved, fueling expectations that the Fed would stick with its guidance for higher rates. That picture has been muddled over the past month. Prices on Wednesday closed above the 200-day moving average for the first time since May.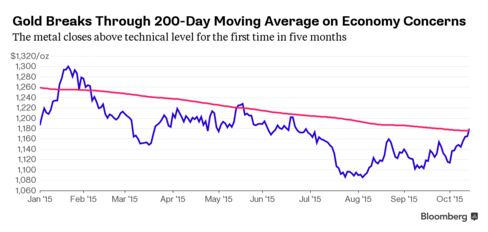 Prices have climbed since Sept. 17, when the Fed announced a decision to keep rates unchanged, citing international risks that threaten to dent domestic growth and depress inflation. The Bloomberg Dollar Spot Index has dropped each week this month, declining on Thursday to the lowest level since June.
Twenty-one of 41 analysts surveyed by Bloomberg from Sydney to New York see prices ending 2015 with a loss, while the rest expect a rebound. Higher borrowing costs make gold less competitive with interest-bearing assets such as bonds, and tighter monetary policy usually strengthens the dollar and cuts the appeal of metals as an alternative.
Holdings in gold-backed exchange-traded products climbed for a fifth straight day as of Thursday, the longest rising streak since Sept. 28. Assets rose to 1,542.75 metric tons, the highest level since July 24, data compiled by Bloomberg show.
Silver for immediate delivery fell 0.4 percent to $16.0593 an ounce, paring a third weekly advance. Palladium lost 0.5 percent to $701.15 an ounce.