Even stockpiles at a two-year low aren't enough to cheer gold investors.
Inventories of the metal on the Comex in New York have fallen for seven straight sessions to 6.89 million ounces, the smallest since October 2013, when inventories slid to the lowest in seven years, according to bourse data.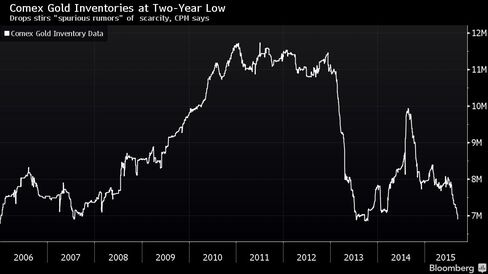 "Our clients will call up saying 'I hear the Comex is running out of gold, what do you make of it?' and our quick answer is that this is a non-issue," Jeffrey Christian, managing director at CPM Group, said in a telephone
interview. "Even if you look at the fact that registered stocks have declined, the fact of the matter is most Comex futures contracts" are cash-settled, and traders don't take delivery of the metal, he said.  
While the percentage of Comex gold open interest covered by total Comex reported stocks has fallen over the past year and a half, it "remains very high by historical standards and presents no perceptible risk of imminent problems with deliveries," CPM Group said in a report dated Sept. 14.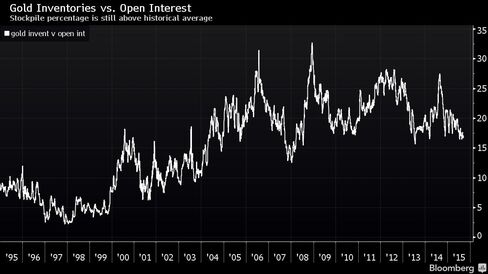 Gold futures, which have dropped 5.5 percent this year and are headed for a third straight annual decline, aren't likely to rebound soon, as the economic and political outlook probably won't be threatening enough to generate a jump in investment demand until late 2017, the New York-based researcher said. The group said it considers bullion "an excellent investment at current prices and market conditions, on a long-term basis."
Barclays Plc said in a report this week that emerging-market demand for gold has shifted some metal into Asia, and that "coverage of physical stocks in Comex remains solid."