The Federal Reserve just rescued gold, at least for a while.
Bullion is headed for the first weekly gain in four after U.S. central bankers Thursday stood pat on rates. The decision by the Federal Open Market Committee is fueling debate over the strength of the American economy. That's good news for gold bulls, who have suffered through more than two years of declining prices.
"Ultimately, lower-for-longer on the rate front will boost precious metals," Jordan Eliseo, chief economist at trader Australian Bullion Co. in Sydney, said by e-mail on Friday. "Gold rallied as the FOMC appeared very dovish — with noticeable concern regarding the outlook for growth and inflation."
Prices rallied as much as 1.3 percent to $1,133.93 on Thursday, the highest since Sept. 3. Bullion for immediate delivery traded 0.1 percent lower at $1,130.07 an ounce at 2:07 p.m. in Singapore, paring this week's advance to 2 percent, according to Bloomberg generic pricing.
Trading volume was languishing before this week's Fed meeting, and prices had dropped to near one-month lows. Investors have snubbed precious metals as job growth boosted speculation that the Fed was ready to lift rates, even as inflation remained below the central bank's target. Spot gold declined 5.5 percent this year as of Wednesday. Higher rates hurt bullion because the commodity doesn't pay interest, unlike some competing assets.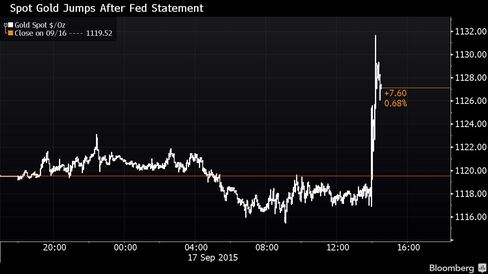 "Gold prices are still likely to follow a gradual downward trend just because of the global environment, which despite short-term volatility, has still a relatively positive outlook led by the U.S.," Vyanne Lai, an economist at National Australia Bank Ltd. in Melbourne, said by phone on Friday. "The overall global general macro environment is still looking like it's going to grow close to trend rate, which is going to be bearish for gold."
The bank is forecasting a December rate increase, with gold seen at $1,076 
an ounce at the end of this year, Lai said. Fed-fund futures show a 44 percent chance of an increase in December with odds going up to 52 percent in January, based on data compiled by Bloomberg.
Further Improvement
The Fed repeated this week that it will raise rates when it has seen "some further improvement in the labor market and is reasonably confident that inflation will move back to its 2 percent objective over the medium term," Thursday's policy statement showed.
It's been a tough two years for investors in gold, which fell into a bear market in April 2013, as a recovery in the U.S. spurred gains in stocks and lifted the dollar. More than $52 billion has been wiped since then from the value of global exchange-traded products, or securities that are physically backed by bullion and linked to the price of the metal.
"We can all see the Fed moving at some point," said Christopher Kelly, the New York-based chief executive officer of SDKA International, which trades commodities."The bottom line is U.S. monetary policy holds more downside risks than upside risks for gold in 2015 and early 2016."
Bullion of 99.99 percent purity added 0.8 percent to 232.17 yuan a gram ($1,135.01 an ounce) on the Shanghai Gold Exchange. Platinum for immediate delivery fell 1 percent to $974.59 an ounce, while palladium dropped 0.6 percent to $607.10 an ounce. Silver lost 0.3 percent to $15.1015 an ounce, trimming a 3.3 percent weekly gain, the most since May 15.