THE BRAND LEADING THE BLAND
"The game's about glory, it's about doing things in style, with a flourish, about going out and beating the other lot …" said Danny Blanchflower famously, doubtless with half an eye on being paraphrased to make a clumsy satirical point about the modern game in unfunny tea-timely missives half a century hence. He may or may not have added: "It's about enhancing your brand identity." Ah yes, brand identity. If anything gets fans through the turnstiles, gets them dreaming, takes them to another, better place, it's brand identity. How The Fiver remembers those halcyon schoolyard days of taunting others on a Monday morning with: "I see your brand identity suffered a brutal jolt in the market to the benefit of my team's brand identity on Saturday." And conversely, The Fiver also painfully recalls having its head flushed down the toilet to the cruel gloating refrain of: "My team's market penetration is deeper than yours." Those scars run deep, just as the toilet bowl did.
Brand identity, see, is something the Football League thinks deeply about, to the extent that it is pondering renaming the Championship, League One and League Two in order to boost it, and it could all happen by next season. "We've entered into a very extensive consultative process with all the stakeholders," head honcho Shaun Harvey chimed at the Soccerex suitfest, before listing said stakeholders in presumed order of importance, "including the Premier League, sponsors and fans … There is no limit to where that work can go and, equally, there is no certainty that there will be any form of radical change." So everything could change, or nothing could, then? Thanks for clarifying.
So anyway, the brand identity of the fourth most-watched division in Europe, and its most popular second tier, is up for grabs. A whole 11 years after it last got a revamp – which in modern football marketing years amounts to several centuries. The similarly well watched third and fourth divisions will also get a makeover. So how might we build a brand identity around issues such as wildly-out-of-control finances, Ross McCormack and Andre Gray's wages and transfer fees, or wet windy evenings in Accrington and the fact that at any given point, somewhere, Jamie Cureton will be banging in the goals for someone or other at the age of 74?
Perhaps we shouldn't be so cynical about the need for another rebrand, or its chances of success. In an age of twee gentrification, where slapping an "artisan" tag on something to give it a tang of authenticity and serving it on a roof tile at twice the price it used to cost is hailed for its "regeneration" effect, lower-league football is particularly well placed to surf such a rebranding wave. Sheffield Wednesday, for example, could have easily deflected the mither they got for charging Bristol City fans 39 quid to sit behind the goal at Hillsborough if they'd described their season-opener against the League One champions as a "Yorkshire-sourced craft football match".
So maybe Harvey's on to something after all. The man who worked for Kuddly Ken at Nasty Leeds when it seemed impossible to work out who actually owned the club might just have his finger on the pulse here. Anyway, the league has appointed guru consultant types Futurebrand to brainstorm all this, though perhaps it needn't have bothered: The Fiver's just done the job in a fraction of the time and, probably, a fraction of the cost – our ideas are available for an artisan Bovril and a box of farm-reared Wagon Wheels. We'll see you on the terraces at Morecambe for the crunch Pop-up Micro-Division clash with Hartlepool.
QUOTE OF THE DAY

"I don't regret my comments at all, I'd do it 1,000 times over because I'm like that. I'll always want things to go badly for Madrid and this is the rivalry which has always existed. I am not going to change my ways and I have nothing to apologise for. Quitting the national team is the last thing I would do. That would be giving in to those who whistle me for the wrong reasons. I've always had the utmost commitment to the Spanish national team. As for the Barça-Madrid rivalry, I won't change. I feel very good, on both a personal and sporting level. Yesterday I went mushroom picking. I am a happy man" – diplomacy's Gerard Piqué puts a specially-convened press conference to decent use.
FIVER LETTERS

"I've always been surprised that The Fiver drinks Tin. I expected bitter from The Guardian" – Ben Carrdus.
"Will Jacob Steinberg come clean that he made up that Las Vegas stunt (yesterday's Fiver) so he could raise the profile of his new screenplay titled Jake's On A Plane?" – Grant McPhee.
• Send your letters to the.boss@theguardian.com. And if you've nothing better to do you can also tweet the Fiver. Today's winner of our prizeless letter o'the day is: Ben Carrdus.
JOIN GUARDIAN SOULMATES

Chances are that if you're reading this tea-timely football email, you're almost certainly single. But fear not – if you'd like to find companionship or love, sign up here to view profiles of the kind of erudite, sociable and friendly folk who would never normally dream of going out with you. And don't forget, it's not the rejection that kills you, it's the hope.
BITS AND BOBS
Too much information dept: Everton boss Bobby M says he's been singing fan ditty 'Can't Buy Me Stones' in the shower since keeping John Stones out of Chelsea's clutches.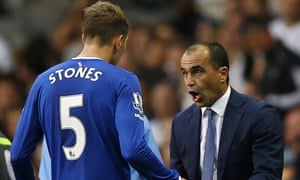 Louis van Gaal says the projected £58.8m splurge he willingly and knowingly sanctioned on Anthony Martial is "ridiculous", rolling his eyes with a cute, guilty "what am I like, eh?" expression. He also betrayed his unexpectedly weak stomach by belching that criticism of his team's style from former players such as Gary Neville and Paul Scholes "makes me sick".
Zenit St Petersburg manager André Villas-Boas says he will resign at the end of the season. "We did not undertake the work during the transfer window that we had expected and the squad is limited," he sniffed.
Arsène Wenger has again defended his inactivity in the transfer window, while denying he deliberately misled Arsenal fans about Danny Welbeck's knack. "I have made more than 300 transfers and every time it's a decision to make," he parped. "Do you buy the player because he strengthens his squad or not? The solutions we had were not convincing at all."
Liverpool forward Daniel Sturridge has returned to full training with the club after his jaunt to the USA! USA!! USA!!!.
Derby County are sniffing around Manchester United whelp James Wilson. "We have shown an interest," purred Paul Clement.
And history has been made at Welling United of the National League, where striker Sahr Kabba has become the first player to be charged under the new FA law designed to crack down on simulation.
STILL WANT MORE?

Forza Clapton! James Riach soaks up the anti-racist anti-homophobic vibe in east London, where gates have risen tenfold as a hardcore of politically committed supporters has developed in the ninth tier of the English pyramid.
Want to make instant yet informed judgments on the players starting for their new clubs in the first Premier League programme since the transfer window SLAMMED SHUT? Well now you can, as Paul Wilson runs the rule over 10 players likely to make club debuts this weekend.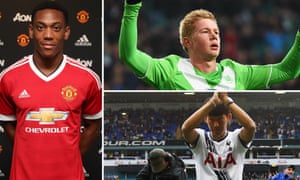 This week's Classic YouTube features own goals, overhead kicks and Shinji Kagawa. Just your usual Classic YouTube, then.
Tusdiq Din explains how Premier League clubs are making progress over prayer rooms for fans.
The progress of Luke Shaw suggests Mr Roy's defence for Euro 2016 is taking shape, writes Daniel Taylor. Why, he could even be another Ashley Cole, chirps Roy in the no-pressure-son-we're-all-counting-on-you style.
Oh, and if it's your thing … you can follow Big Website on Big Social FaceSpace.
SIGN UP TO THE FIVER
Want your very own copy of our free tea-timely(ish) email sent direct to your inbox? Has your regular copy stopped arriving? Click here to sign up.
SPEED UP, GENTLE